LINACRE LOCKSMITHS
Blog - life of a Norwich locksmith


Just a few of the daily jobs, advice and tips we encounter as a Norwich locksmith


Buy cheap, pay twice. Always use a locksmith rather than a cheap handyman


I saw a horror show on a customer's front door today and thought I would share. Obviously the original multipoint locking system had failed. But rather than source and fit a direct replacement, the handyman (or cowboy) that did the work used a completely unsuitable mechanism as an alternative. The mech he fitted was for a upvc door not a wooden one, so his mech had rollers that stuck out proud from the door edge. No bother for this intrepid workman. He just hacked out pieces of the frame so the rollers could enter and the door could close. The full length keep plate is a right mess and it is a struggle to raise the handles fully due to all the misalignment between mech rollers/hook bolts and the slots in the keep. Due to the differences in this mechanism and the original he also had to fit new handles. But because the backset is different, the new handles do not quite cover the original handle screw holes and euro profile hole in the door.

I dread to think what the landlord paid his handyman for this poor effort, but if he had called me then job would have been done right using the right parts and without any damage to frame.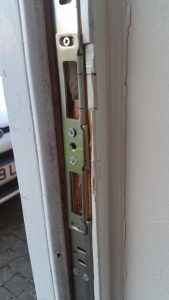 A heads up on locksmith companies to avoid


Not all locksmiths are the same. In my latest BT directory through the letterbox recently there were two full pages dedicated to 8 ads for locksmiths from just two companies. Take a closer look at each full double page spread. Don't these ads look like different companies, all with different telephone numbers? But each double page spread is just one national company; a call centre type operation that relies on sub-contracting any work out to the nearest locksmith to the customer. That is why they also ask you to quote a reference number on the advert.

So the customer pays twice in effect, once to the call centre company (around 60% of the inflated total rate) and again to the actual guy who turns up (the remaining 40%). A simple gain entry job can end up costing well over £100 plus vat when it should be a lot less. Who knows what the expertise and professionalism of the person who appears at your door, usually in an unmarked van or estate car. They are unlikely to be actual professional locksmiths, possibly handymen or people sold the dream of becoming locksmiths by doing a two day ebay course! Tales on the internet abound of ham-fisted individuals going straight for the drill and destroying perfectly good locks. After all, they can then sell to you at a high price some parts (that were probably not needed until they drilled them). Search out reviews from customers on these big national companies for yourselves.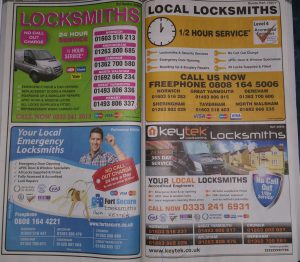 So what did we do this week....

As one of the foremost Norwich locksmiths we get called out to a wide variety of locksmith work. Both residential and commercial customers require our services from time to time. So here is just a snapshot of our working week over the last few days;

1. replaced (after opening) broken/jammed upvc multipoint locking systems
2. replaced euro cylinders in upvc doors as keys lost or missing
3. replace and/or upgrade mortice locks to better quality and meeting insurance standards
4. rekey existing mortice lock for new keys
5. open up an antique cabinet and hand make a key
6. replace a commercial sash lock that previous locksmiths had said was obsolete and walked away from (it was obsolete but there was a suitable alternative on the market)
7. fit a Supra C500 keysafe to local holiday let property so guests could arrive and use key to enter (so landlady doesn't always have to attend when they arrive)
8. gain entry to a student's bedroom after they shut door having dropped yale snib and forget to take keys
adjust
9. service variety of upvc door mechanisms to make operate better
10. pick open padlock on shed (no damage)

So here at Linacre Locksmiths we see all sorts of lock issues; it is what makes this job so interesting. Check out our webpage for more info and tips to be more secure.



Some jobs do make me laugh though...

Not for the first time have I seen this, though it is rare. Linacre Locksmiths were called out to replace a full length multipoint locking strip today by a customer who had complained that her door had dropped and was difficult to lock for a while. Over time this had meant the mechanism was getting forced harder and harder to operate. The lock eventually failed. I undid screws from top downwards and when I was within 2 feet from the bottom, on removing the screw a jet of water shot out.

This jet continued for about 5 mins, then as I work down to remove the lower screws more water came out. Must have been a gallon in the door. No wonder it had dropped with all that extra weight.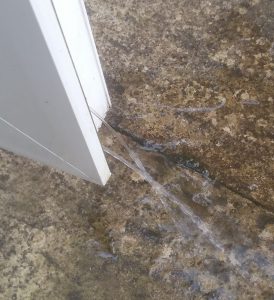 This can happen with outward opening doors, especially old ones, as rain water can seep into the old shrunken rubber seals and enter door cavity. Normally there are drain holes at the bottom of the doors to allow this water to escape but over time they get clogged with dirt, moss etc and bung the holes up.

So if your door feels heavy, or if it seems to have dropped excessively then maybe yours too has water trapped. Check any visible drainage holes and clear out any debris. That includes drainage holes in the threshold (sill) too. Of course, other causes can result in doors misaligning and locking points not engaging with their keeps on the frame correctly, leading to stress damage.

Just give us a call to resolve and lock issues you have, and hopefully prevent an expensive replacement of parts.




Door too thin for a decent lock? Locksmiths in Norwich (Linacre Locksmiths) can help.

Although many jobs we locksmiths do are fairly routine and commonplace, occasionally we get to do rare stuff too. It is quite common for many properties, especially those in more rural areas, to have very thin wooden doors. These are typically at the rear of the property. The thinness of the doors however means that traditional mortice locks cannot be fitted, of it they can then only very basic 2 lever ones due to the thin width of the lock case itself. But many insurance companies these days insist on 5 lever locks (and often also conforming to BS3621 insurance standards).

Although the options in the marketplace are limited there is a way of fitting a BS3621 5 lever deadlock to the door. Not only that but a Chubb one too which is about as good as you can get domestically. A specially made rim lock box is fitted to the back of the door at a burglar's kick height that cannot be removed from outside and the deadlock is fixed into the box. The keep plate/box is added to the frame with reinforcing bolts too for extra strength. We also added a kickstop (also known as a London Bar) to reinforce the staple box on the frame even further.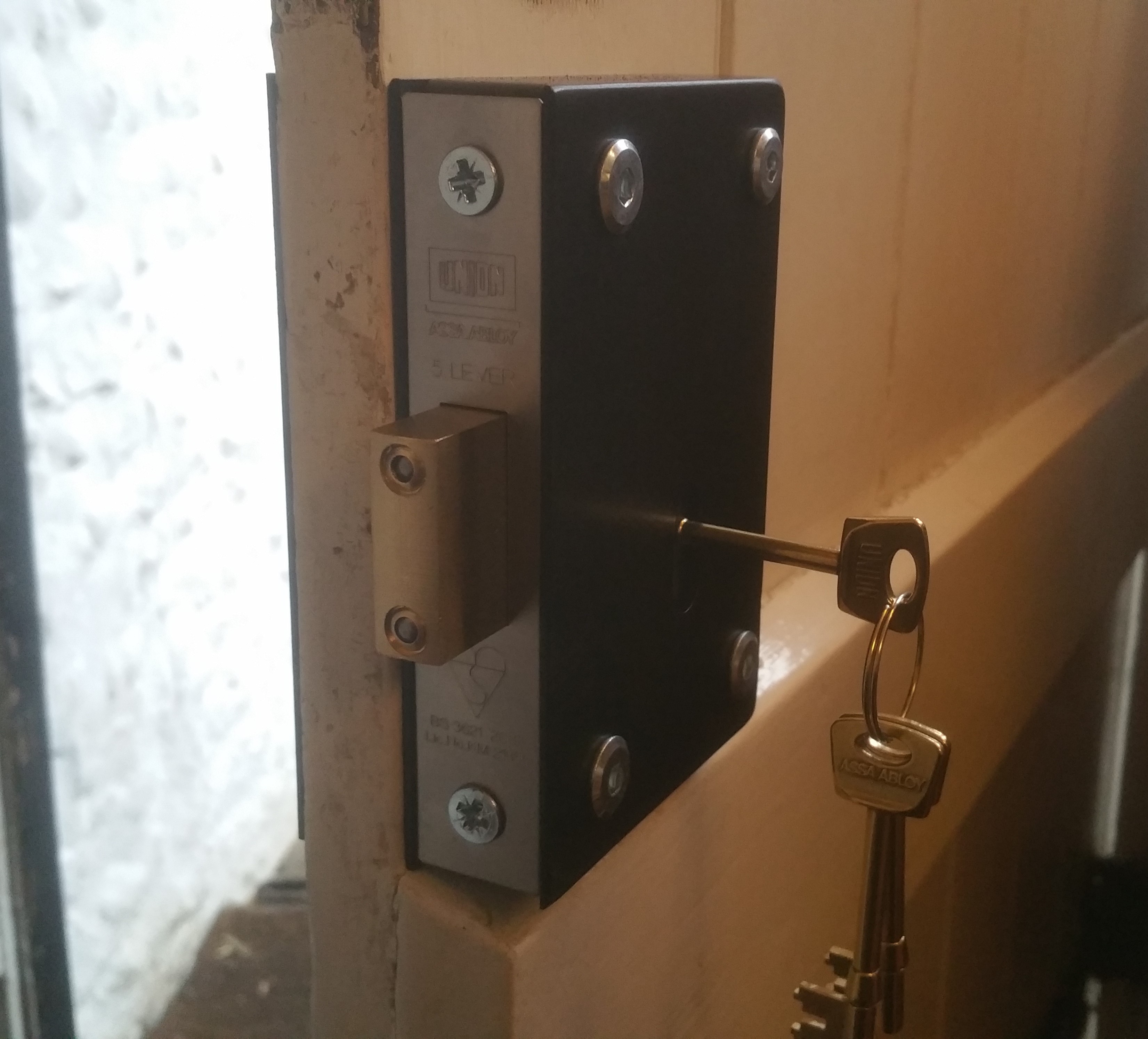 So if you think your door is too thin to have a decent lock fitted (and also meeting insurance standards) then give Linacre Locksmiths a call on 01603 408528




Masterkeying or keying alike several locks.


A very useful system is masterkeying and keying alike lock cylinders, where multiple locks are required to be operated with the minimum of keys. On a simple level a homeowner may want their front and back door locks to be keyed alike to save having two different keys. This means that both locks are keyed alike, and share the same key, so one key can operate either door. Many upvc french doors (double doors) have a keyed alike cylinder in each door. Linacre Locksmiths often get asked to do this for homeowners who need locks changed due to lost or stolen keys for example.

However this advantage of keying alike locks is also useful to landlords who may have 3 or 4 bedrooms let out to students for example. Each student wants to lock their own door of course and also have a key to the entrance doors. Which means normally one key for front door, one key for back door and one key for their room. Three keys. Why not just have one!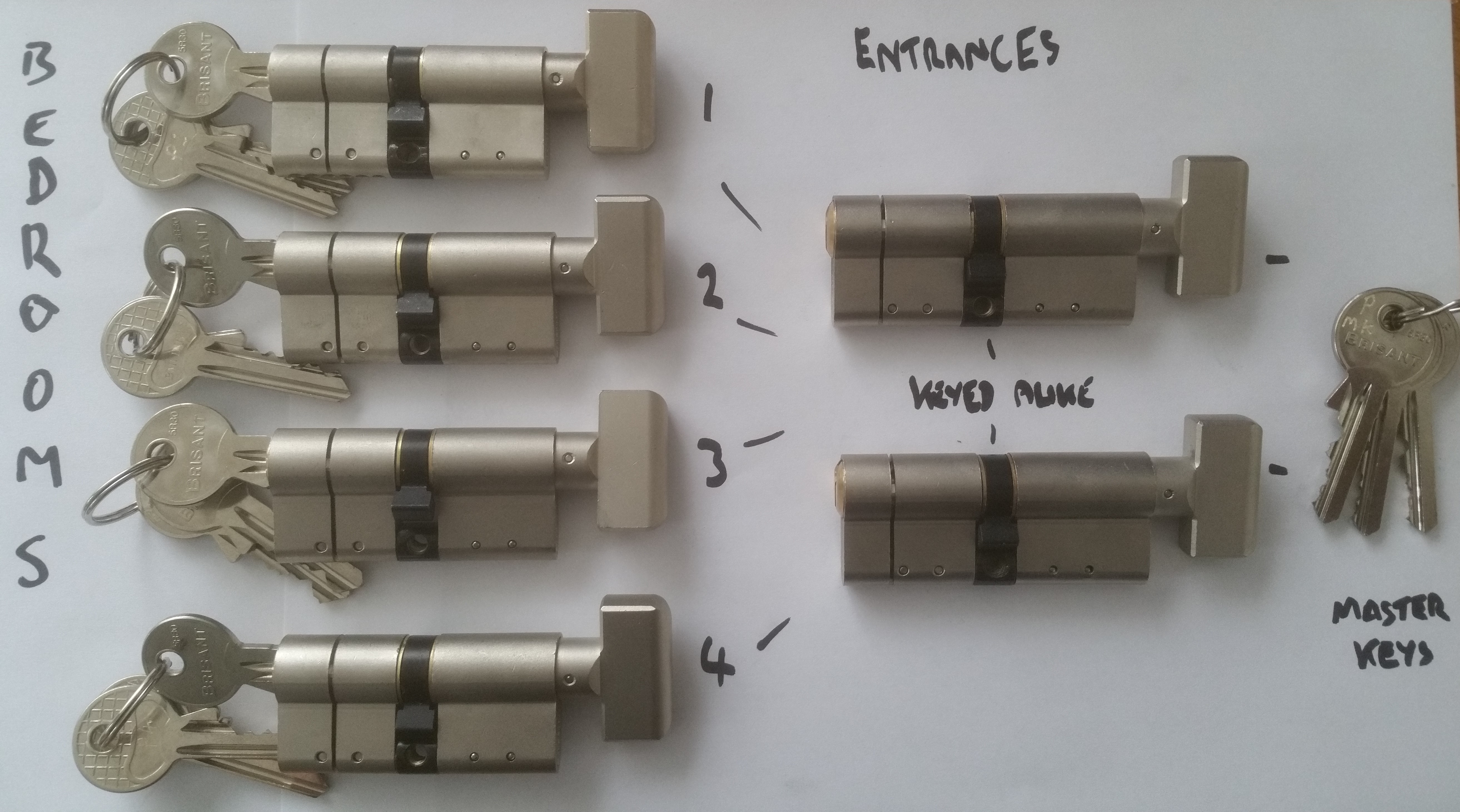 There are many higher levels of masterkeying and keying alike such as those found in hotels for example. Locks can be grouped into sub-groups each with their own master keys, and with a set of grand master keys to open them all.

Linacre Locksmiths can provide this service and the benefits to homeowners and landlords is obvious.



The importance of good security for your upvc doors



The advantages and security of upvc doors are obvious and are installed on millions of properties throughout the country. The sense of security we get when we lift the handle up to lock and all those multiple locking points come into play. We feel secure. But just how secure are they really?

Every locksmith will tell you that the weakest point of every upvc door is the cylinder. The locking mechanism can throw out a hundred locking points such as hooks and deadbolts, but if the cylinder gets compromised then the handle goes down and the door opens. These upvc doors have been around for a few decades now and many still have the same original euro cylinders fitted. Many home owners pay little attention to security especially if they have never been broken into before. Criminals however are always looking for ways to defeat locks and break into properties quickly. And so lock snapping is on the rise as a preferred method of entry. The most basic of tools are required and is a fairly quiet method of gaining entry.

So what can the home owner do to prevent this? Well the answer is simple. There are higher standards these days for cylinders which mean they can be tested against many forms of attack, such as drilling, snapping, plug pulling and simple lock picking. Most euro cylinders on most homes are standard 5 or 6 pin cylinders not meeting any specific testing criteria (mainly because these tests came out many years after their original installation). More recent cylinders have appeared which carry the British Standard BS kitemark logo. And now they also carry a 'star' rating.

In general terms there are three classes of euro cylinders. The countless thousands fitted to thousands of doors, some 10 or 20+ years old which carry no specific standard, or a basic level one. Then there are the more recent, more tested, more secure ones. Ones which carry the BS kitemark logo and also show a single star, or the higher class of 3 stars. Guess which is the best, most secure version!

When choosing a cylinder why compromise just to save a few quid? Think how much more you could lose to a burglar. When choosing to replace your cylinders there are two main criteria to look for:-

The SS312 rated locks are the highest possible standard you can currently get and these locks have been tested using all known burglar techniques, also employing the very tools the burglars use.

The TS007:2012 3 star cylinder is also a very high rating one and has passed anti snapping tests.

Be aware that there are kitemark TS007 cylinders with only 1 star on them. This doesn't mean they are poor locks, but just that they have not necessarily been tested for their anti-snap capability. So what brands carry the top SS312 rating? Here are a few to look for;

ABS Mk3
ERA Fortress
UAP Kinetica 3 Star
Avocet ATK
Ultion (Brisant)

Many other brands offer the TS007 3 star and are also very good;

Yale
Asec Kite
GeGe
BKS
Iseo
and many others.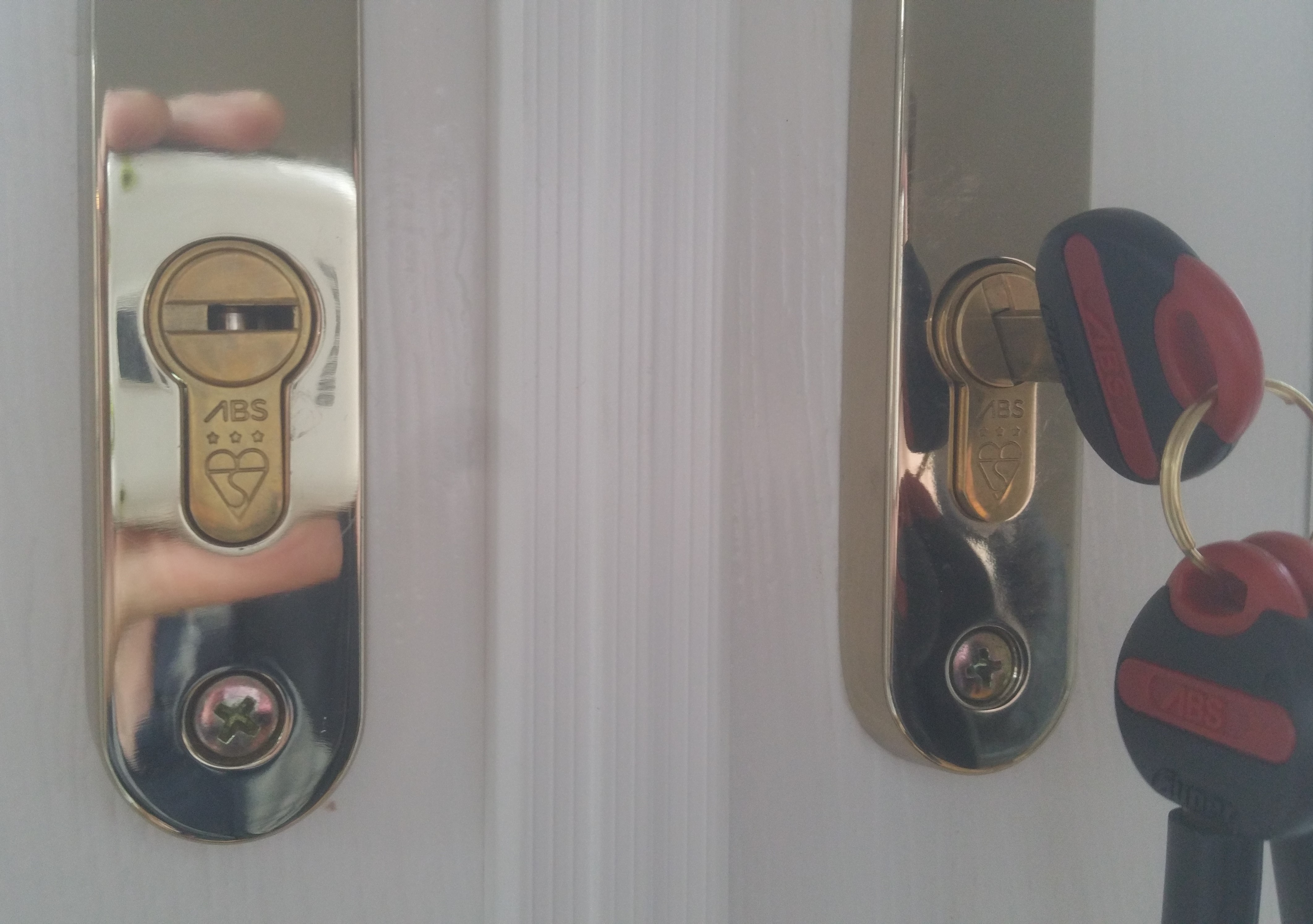 In truth there is no real point in fitting a 1 star euro cylinder when for a few pounds extra you can get a 3 star one and have that important peace of mind. Cost wise each 3 star cylinder is around £45 but surely that is worth spending when it comes to protecting your home, valuables and family. Increase your security and reduce risk.

Ask Linacre Locksmiths for advice and recommendations, and we can order and fit them for you.





Yale type nightltatches - safety without compromising security.


Many main entrance doors to a block of flats, for example, have a basic Yale nightlatch or similar fitted. While this is convenient for the tenants it fails to meet two criteria;

a) Meeting insurance approved security levels

b) Allowing for easy fire escape in emergencies

A standard Yale type nightlatch arrangement is easy to use but also vulnerable to being picked/slipped or bypassed by people who should not be entering (non-keyholders). If you want to improve the security of the lock a BS3621 nightlatch can be fitted. It features an armoured cylinder escutcheon and automatically deadlocking latchbolt when the door is closed. However these nightlatches also have the ability to have the inner handle deadlocked with the key, stopping it from being operated if someone smashes the glass.

This is fine for a domestic property but totally unsuitable for a communal entrance door.

The reason is that in the event of an emergency the residents need to escape quickly. It can potentially be fatal if someone has locked the inner handle, as without the key it cannot be unlocked and therefore allow the lock/door to be opened and escape made. You cannot have the residents being forced to go back into their smoke filled flat, for example, to find a key in their panic.

So Yale make a version specifically to cater for this requirement. Depending on the size of the lock it is called the PBS3 or PBS4. The British Standards these locks adhere to is BS8621 (as opposed to BS3621 for the lockable version).

The inner handle has no keyway so cannot be deadlocked; fire escape regulations will always override security. The safe evacuation of residents is always the first concern.


So if you are concerned what is fitted to your own communal doorway, or if a landlord looking to check you have the right lock in place, give Linacre Locksmiths a call and we can give the correct advice.




Gotta love the DIYers....lol


Another of this week's jobs saw a customer try his hand at doing it himself. He knew his upvc door gearbox had broken in his front door and had attempted a DIY removal and replacement. He had removed the entire mechanism from the door, and opened up the lockcase and diagnosed which small part had broken. Put it all back together, measured to order a replacement gearbox, refitted the mechanism back in the door, shut door then couldn't re-open. He tried all sorts of drill bits to figure out why it wouldn't open. Drilling into the latchbolt assembly didn't help him of course. He had to call a locksmith in the end (me) to open door and then fit his eBay ordered lock.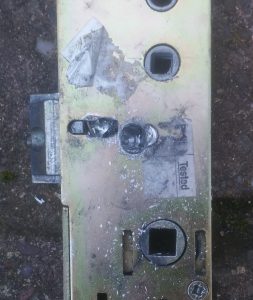 Seeing this sort of variety certainly keeps me entertained and makes an occasional change from the humdrum. And it is what makes this job so enjoyable. I wouldn't want to do anything else!




Want to be a locksmith in just 2 days?


Do you want to be a locksmith? You've seen it in the movies, a quick 2 second fiddle with a lock and hey presto they are in! You have seen the two day courses being offered on eBay etc to become a locksmith, promising high incomes for very little outlay. So you think why not give locksmithing a bash; after all, how hard can it be?


I started Linacre Locksmiths over 14 years ago and can say that in all that time only around 10% of my work involves lockouts. Most of the work is either remedial work; fixing broken locks, adjusting upvc doors, rekeying locks etc; or replacing or fresh fitting various locks. The trouble is that if someone gets locked out then a professional locksmith comes out and can indeed literally get them back in their house in a couple of minutes sometimes. So they think wow, easy money. I could do that!


You search for how to become a locksmith and suddenly eBay sellers and others offer to train you in two or three days. They might train you in a rented office, or a small workshop on an industrial unit. You will be taught how to pick basic cylinders and mortice locks. No point in the trainer using high security locks like you might find in the real world that you cannot open. After all, he promised you it is easy, so the locks will be primed to almost fall open (like the movies). Then comes the sting. You can't just head off into the locksmithing world without the right tools can you! You are sold cheap imported poor quality tools, some of which you will never need, some do not even work properly, at vastly inflated prices. You don't know any different so buy them. So after 2/3 days you are £2000 down and armed with poor knowledge and poor equipment. And all you can hope to do are simple lockouts, which as I mentioned earlier only account for 10% of an average locksmiths workload.


To be serious about being a locksmith you need substantial initial investment and proper training from well researched training companies. You need to be prepared to make a loss for the first year at least. And I haven't even touched on how you actually get your name out there and attract customers!
Enter supporting content here